About ReelArt Studios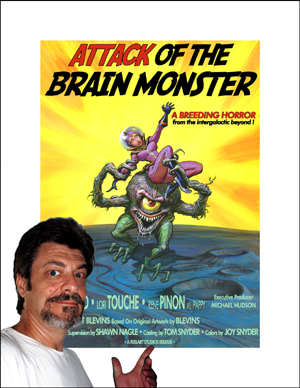 ReelArt Studios is a producer of top quality resin statues and busts, specializing in movie, pulp and comic book characters. Our focus is on creator-owned properties, bringing their characters into the third dimension. To accomplish that, we work with some of the top figure sculptors in the world, always seeking to bring you, — the collector — a little something different. Many of our products are licensed and what this means to you is that the trademark/copyright holder had to approve every phase of production. While this can be a daunting task for us, it assures you of a true work of art that not every Tom, Dick and Harry will own! First and foremost, we are fans and collectors serving you. Your satisfaction is our number one goal!

Thanks for visiting,

Michael Hudson
Founder
ReelArt Studios

A little about me…

I have been involved in the art world for the past 29 years. My first interest was in cartooning, having grown up on a steady diet of comic books and movies, but life has a funny way of throwing curve balls and since I couldn't be either one of my heroes, Wally Wood or Errol Flynn, I ended up somehow as an accomplished landscape and portrait painter. I never got over my love of comics, pulps and movies from the silents to the Bs and a few years ago found myself longing to be a part of that culture. Call it middle age crazy but here I am utilizing my business contacts, design skills and love for these forms of entertainment to pay homage to the characters and creators I admire. BTW, I still paint, sell prints and do gallery shows and such as time permits.
---
Should you experience difficulties in using our new menu bar,
go to our Site Map.
---

---
The contents of this site are © 2009 and ™ owned by ReelArt Studios
or are licensed by ReelArt from the respective © holder(s). All rights reserved.
---